Fit Global Connectivity Into Your Palm
Small, rugged, lightweight satellite communicator enables two-way text messaging via 100% global Iridium® satellite network (satellite subscription required)
Trigger an interactive SOS to the 24/7 search and rescue monitoring center (satellite subscription required)
Access downloadable maps, U.S. NOAA charts, color aerial imagery and more by using the free Garmin Earthmate® app and compatible devices
Optional inReach weather forecast service provides detailed updates directly to your inReach Mini or paired device; basic and premium weather packages available
Send and receive inReach messages through compatible Garmin devices, including connected wearables and handhelds
Internal, rechargeable lithium battery provides up to 90 hours of battery life in 10-minute tracking mode
Stay in touch using inReach technology.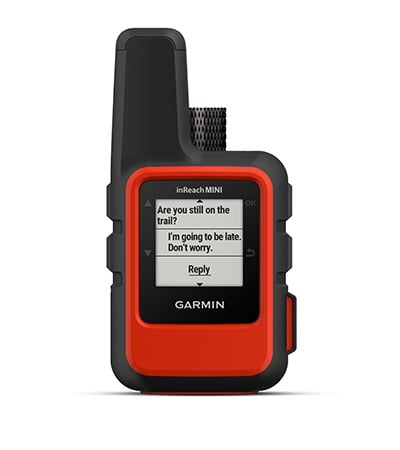 TWO-WAY MESSAGING
Exchange text messages with loved ones, post to social media, or communicate inReach to inReach in the field (satellite subscription required).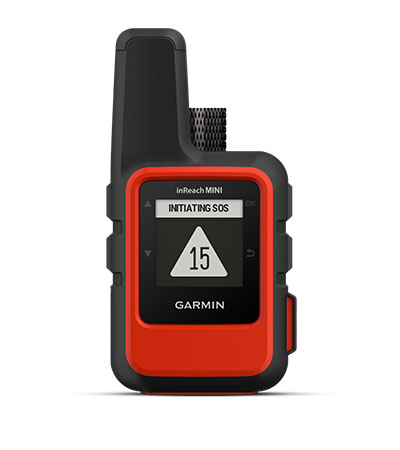 INTERACTIVE SOS ALERTS
In case of emergency, trigger an interactive SOS message to GEOS, the Garmin-powered International Emergency Response Coordination Center (IERCC) with professional 24/7 global monitoring and response center (satellite subscription required).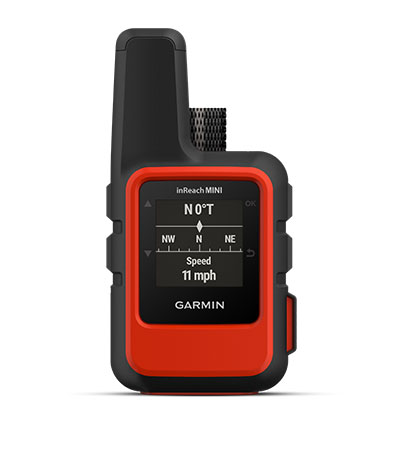 LOCATION SHARING
Track your location, and share it with those at home or out in the field so they can see your progress or ping your device for your GPS location and more (satellite subscription required).
100% GLOBAL IRIDIUM SATELLITE NETWORK
Instead of relying on cellphone coverage, your messages, SOS alerts and tracking are transferred via the global Iridium satellite network (satellite subscription required).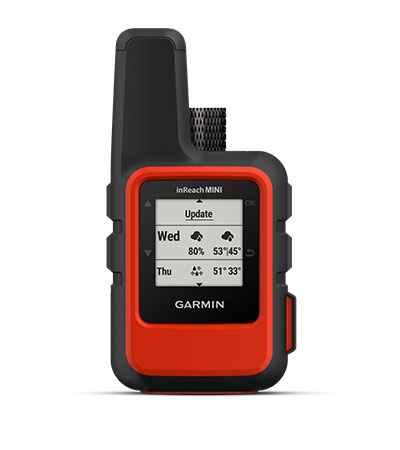 INREACH WEATHER FORECAST SERVICE
Get detailed weather updates on inReach Mini or a compatible device. You can even request forecasts for your current location or other waypoints or destinations on your itinerary.


Your adventure-ready companion.
COMPACT, RUGGED DESIGN
Don't let the 4" x 2" size and 3.5 oz weight fool you. inReach Mini is tough, durable, impact resistant (MIL-STD-810F) and water-rated to IPX7.
FLEXIBLE SATELLITE AIRTIME PLANS
To access the Iridium network and communicate with your inReach Mini, an active satellite subscription is required. You can opt for an annual package or a month-to-month plan.
CLOUD STORAGE AND TRIP PLANNING
Get free access to the cloud-powered Garmin Explore™ website to plan your trips, create preset messages and quick texts, sync and manage your device settings and much more.
BATTERY LIFE
The internal, rechargeable lithium battery gives you up to 90 hours' use at the default 10-minute tracking mode and up to 24 days in power saving mode.
Connect to more capabilities.
EARTHMATE APP
The app lets inReach Mini sync with compatible mobile devices for access to unlimited maps, aerial imagery and U.S. NOAA charts. You can also use inReach features on the paired device.
OTHER GARMIN DEVICES
Remotely control inReach Mini to send and receive messages using compatible Garmin handhelds, wearables or other mobile devices.
GARMIN PILOT™ APP
Pair with the Garmin Pilot app to easily send and receive text messages from the cockpit — even without cellular reception. The app can use the inReach Mini device's GPS position and location sharing abilities for your flight.
Some jurisdictions regulate or prohibit the use of satellite communications devices. It is the responsibility of the user to know and follow all applicable laws in the jurisdictions where the device is intended to be used.